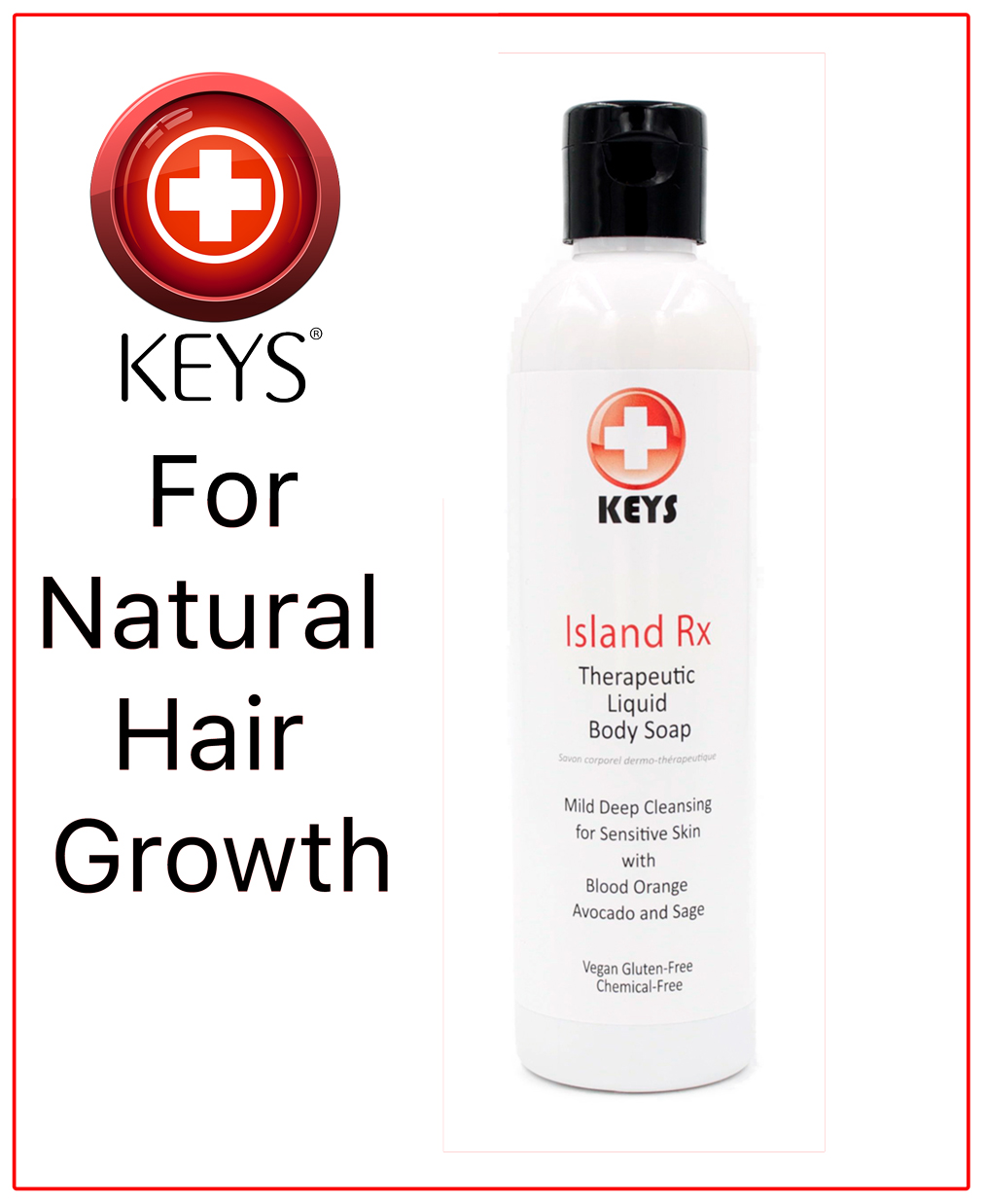 Island Rx For Hair Growth


Island Rx Liquid Soap/Shampoo has been a Key® staple product for nearly twenty-four years. It was the product that Pfizer scientists applauded for its efficacy and clean-green design. It was one of our first four products and was the first developed for Wendy's fight with Melanoma.
Over the years Island Rx has been around, we discovered some interesting properties of Island Rx liquid soap that were pretty amazing. One of many was hair growth in men and women with short thinning hair. Why?
Island Rx's base soap is Castile-like. We mixed oils to ensure that the hydroxide used to saponify was complete. This meant the soap would still be slightly alkaline at a lower pH than most Castile soap. We add avocado oil, clary sage essential oil, and blood orange essential oil. This is important as years later, we have discovered one, if not the prime, reason for hair growth. To be clear, we have heard for years from men and women with fine and thinning hair that Island Rx worked for and then re-renewed their hair growth. On top, we heard that their hair was fuller and denser. The way appears to be very simple.
Most conventional shampoos contain sulfates, phthalates, and parabens. These chemicals are in 95%+ of shampoos. We know from papers at the National Institutes of Health (NIH) that these chemicals, separately and combined, cause severe skin inflammation at various levels/layers. First principle thinking screams to look at the cause of the inflammation, and you have to look no further than these three chemicals. Remove the source of the inflammation, and it goes away. Add a natural castle-like alternative and a known natural anti-inflammatory like clay sage and blood orange essential oils, and you begin to reverse the problem.
So, inflammation caused the hair pore to be inflamed and enlarged. The pore gets smaller and extrudes thinner and thinner hair which is a protein. As the pore shrinks in size, some, if not all, close entirely, and hair goes away. We know that this is somewhat true of alopecia suffers.
Island Rx is a head-to-toe soap/shampoo for many people. It deals with various skin conditions like dermatitis, eczema, and psoriasis. It can repair many scalp conditions and reduce inflammation for people with short, thin hair. We know this.
As a note, liquid soaps go back centuries and can carry base and essential oils where bar soaps cannot. For people with short fine hair, it makes a wonderfully rich shampoo that reduces inflammation and increases the fullness and body of the hair. Using a mesh scrubby or natural sponge will give you the lather and foam cleaning you cannot get from bar soap.
It is important to note that in our opinion, using Island Rx on your entire body will help.  What helps as much is being aware of using chemical-laden skincare and hair care products that contain sulfates, PEGs and Phthalates.  Island Rx has an even greater benefit when you don't use junk products.
Give it a try. Type IRX into the coupon box at checkout and get 20% off for March 2023. Click Here to Buy.
Try it and tell your friends.