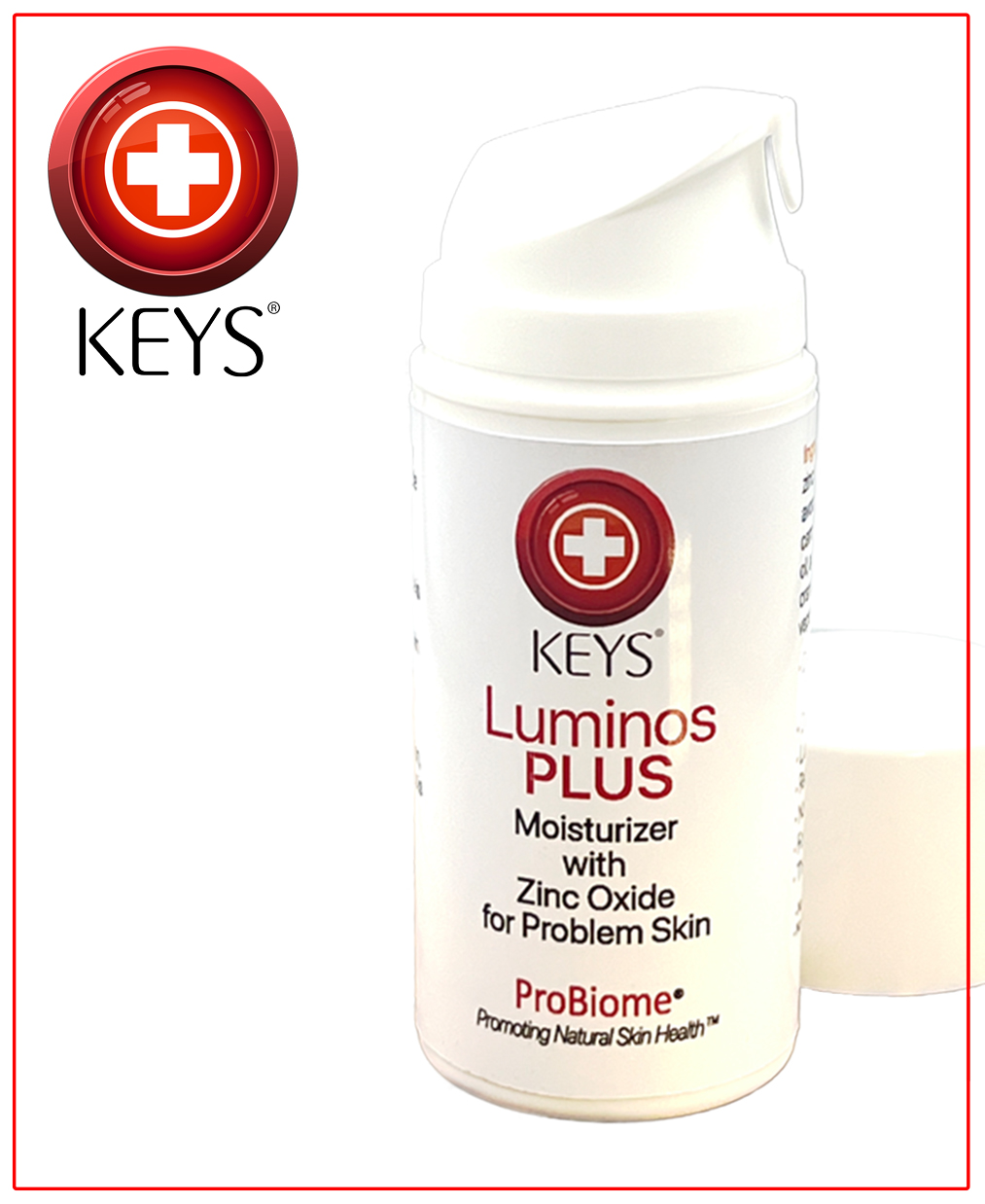 New Luminos PLUS with Zinc Oxide for Problem Skin
Wide-Range Anti-Aging – Luminos PLUS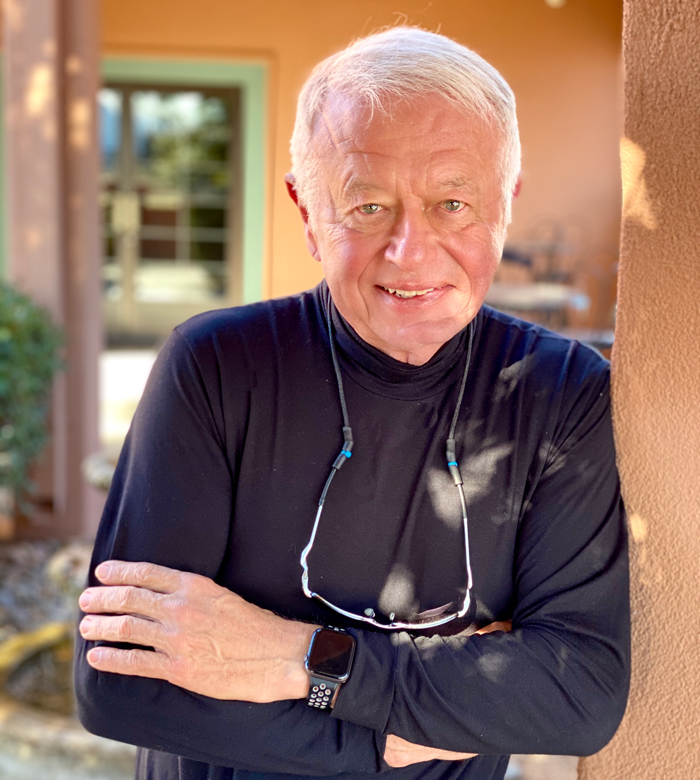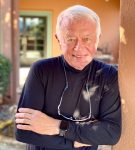 by Bob Root, Keys® Founder, and Chief Engineer
We are happy and super excited to announce a new product called Luminos PLUS with Zinc Oxide. It is a wide-range anti-aging product because it protects and restores across many fronts.
"If our atmosphere were just a bit thicker, we would not see damage from the sun. If our air were a bit cleaner, we would not see environmental damage to our skin. If toxic chemicals, like the Dirty 30, did not compromise our skincare products, we would not worry about their damage." 
For example, put your bare forearms out in front of you. One palm up and the other palm down. Do you see the difference? For most of us, the palm down forearm is darker, with spots, marks, and even lines. For most of us, the palm-up underside of the forearm is smooth, lighter, clear, and softer. Mine is a super contrast because I am in the world's jungles looking for new natural botanical skincare solutions. Our forearm is just one of the indicators that are easy to see caused by the sun and environmental and chemical effects. Our face is an even more significant indicator of how we are aging. I dedicated an entire chapter to each topic in my book, Chemical-Free Skin Health®.
The point is that Luminos PLUS with Zinc Oxide is a wide-ranging skincare product whose ingredients protect, restore and condition the skin naturally. It, like our Nextra, is one of the most advanced extraordinary products we have ever designed and produced. Plus, they are 100% natural, and each ingredient is a significant player in its own right. The ingredient deck reads like a natural botanical pharmacopeia. This does not mean you can bask in the sun.
On the contrary, Luminos PLUS Zinc Oxide is another tool in staving off aging caused by our environment. We are still 100% advocates of covering up with UPF clothing, a big UPF hat, UV protective sunglasses, and sunscreen on exposed areas. Luminos PLUS is a way to fight back time. Luminos PLUS is genuinely a bit of a time machine that even makes this guy look better and younger.
So what is Luminos PLUS with Zinc Oxide? Silver Bullet?
---
Luminos PLUS with Zinc Oxide is Luminos Moisturizer
with Zinc Oxide 

for Problem Skin
Super Daytime Anti-Aging Treatment 
Zinc has been used as a therapeutic modality for centuries. Topical zinc oxide is a revered medicinal ingredient for skin sensitivities and disorders, including acne, rosacea, dermatitis, rashes, redness, inflammation, and melasma. Zinc accelerates the healing of tissue damage from burns, sunburns, scrapes, poison ivy, bacterial infections, and chemical irritations.
– Clears-Up Wide Range of Skin Problems
– Reduces Visible Skin Aging
– Minimizes Fine Lines and Wrinkles
– Lightens Dark Spots due to Sun Damage
– Evens Skin Tone with Luminescent Moisturizer
Ingredients: Keys® optically clear uncoated zinc oxide, purified water, avocado oil, shea butter, carrot seed oil, black seed oil, agave aloe, blood orange EO, clary sage EO, vegetable glycerin USP
"Luminos PLUS is technically not a sunblock. The formula is very close to our Solar Rx. When I am asked what I will use for a daytime product instead of Solar Rx, it is Luminos Plus." Wendy Steele, Keys CEO and Melanoma Survivor
What Causes Visible Skin Aging?
Sun Exposure

Environmental Toxins

Harsh Chemicals

Chemical Preservatives

Dehydration

Past Sun Damage
The Solution?
Luminos PLUS 
with Keys®Zinc Oxide
Uncoated Zinc Oxide Sun Shade

Avocado & Black Seed Oil Nourish

All Natural Whole Ingredients

No Preservatives 

Deep Moisturizer

Reduces Spots, Fine Lines, Wrinkles 

Fades Uneven Skin Tone
---
"Luminos PLUS is, by far, the best Daytime anti-aging product I have ever used at any price." Wendy Steele, Keys CEO and Melanoma Survivor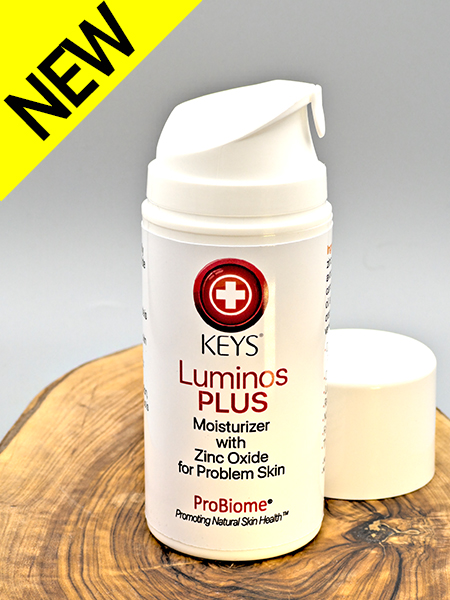 Luminos PLUS Zinc Oxide (100ml)