Galleyon Antibacterial Soap – A Multi-Use Wonder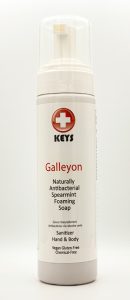 I have super sensitive skin. I am also a germaphobe. For that reason, I pay attention to everything that touches my skin. After all, this is the season when bugs and viruses seem to peak. Without a doubt, Galleyon Foaming Soap is my go-to product. It is naturally anti-bacterial and not a bactericide. Spearmint essential oils are effective cleansers. Therefore, it is not destroying the healthy microbiome on my skin. As a result, I use it not only for my hands, for my face as an extra cleanser and for sure on those things that ultimately touch my face.
All year round I pay particular attention to my facial skin. When I wear a cosmetic foundation, my clean fingers can be great applicators. Frequently, my favorite applicators for a sheer natural finish are my beauty sponge and make-up brushes. To that end, what you use and how you clean it does matter. Therefore, I use super clean cosmetic brushes and complexion sponges.
To be sure, I always use Galleyon Foaming Soap to clean my makeup brushes, sponges and tools. Galleyon is an all natural antibacterial spearmint soap that quickly and safely cleans my brushes and sponges.
To clean cosmetic brushes, first wet the brush in warm water. Then apply Galleyon foam cleanser to the palm of your hand. Follow by gently swishing the brush in a circular motion for about 30 seconds. Rinse and repeat if necessary. Afterward, blot to remove excess water. Use a clean washcloth or hand towel for this process. Gently press out water and take care to retain the original shape of the brush. Finally, allow it to air-dry naturally. Place the brush on a clean surface, like a countertop, with the brush tip hanging over the edge. This technique assures that the brush tip will maintain its shape during the drying time.
To clean cosmetic sponges, first wet the sponge in warm water. This time apply Galleyon foam cleanser directly to the sponge and squeeze cleanser throughout for about 30 seconds. Rinse in warm water while squeezing until water appears clear. For faster drying, press into a clean washcloth to remove excess water. Let air dry.
In conclusion, Galleyon has a rich spearmint lather that makes cleaning simple and pure. With natural conditioning oils, it does not dry out my brushes or damage my sponges. I also love that it rinses fast and leaves a refreshing scent!
Best of all no perfumes, toxins or bactericides that irritate my sensitive facial skin.