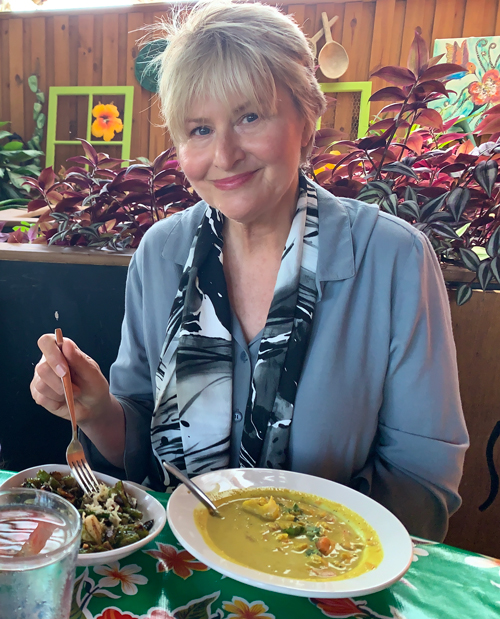 Nextra® NeoRetinol – Exceeding Expectations
Nextra® NeoRetinol Discovery – Better Than Retinol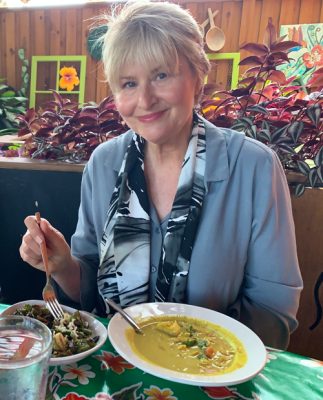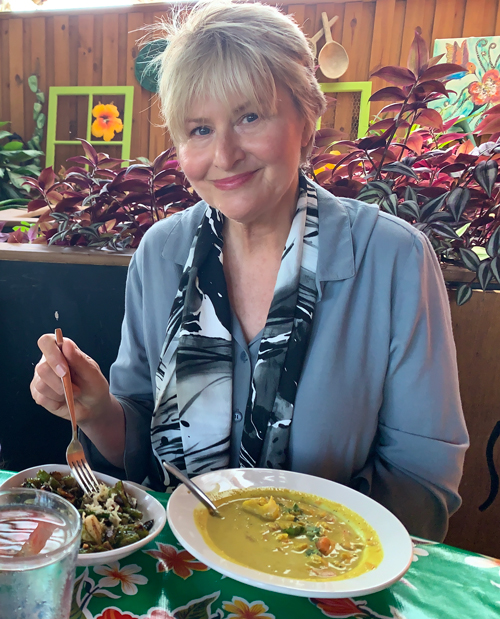 "I am in my 60's and have been using Retinol for decades. By far, it is the best skincare product ever invented. I have purchased Retinol in tiny tubes for over $300 each for years, and it has been worth it until Nextra® NeoRetinol. When Bob Root researched and invented NeoRetinol, I was skeptical; how was it possible to recreate a Retinol that can be used every day, in the sun and without side effects. I started using Nextra NeorRetinol over a year ago, and I use it every day with none of the side effects of Retinol. It is amazing, and it has an amazing price. It is important to note that Retinol is a vitamin A ester developed many years ago with side effects as legendary as its effects. We have developed NeoRetinol that does all the same things as Retinol, but with none of the side effects." Wendy Steele Keys® CEO
Retinol is the staple of just about everyone's skin regimen that wants to turn back the clock. Retinol is a vitamin A ester developed many years ago, primarily for acute acne sufferers. The effects are legendary, as are the side effects. Retinol claims to erase wrinkles and fine lines, but the drying, redness, and peeling flaking skin happen when you use too much too frequently. Lots of fakes on the market, and the real stuff sells for about $300 an ounce. What used to be prescription-only saw the emergence of many fakes.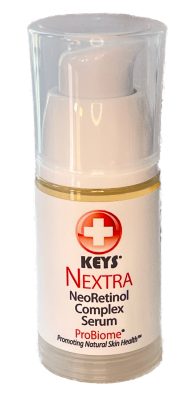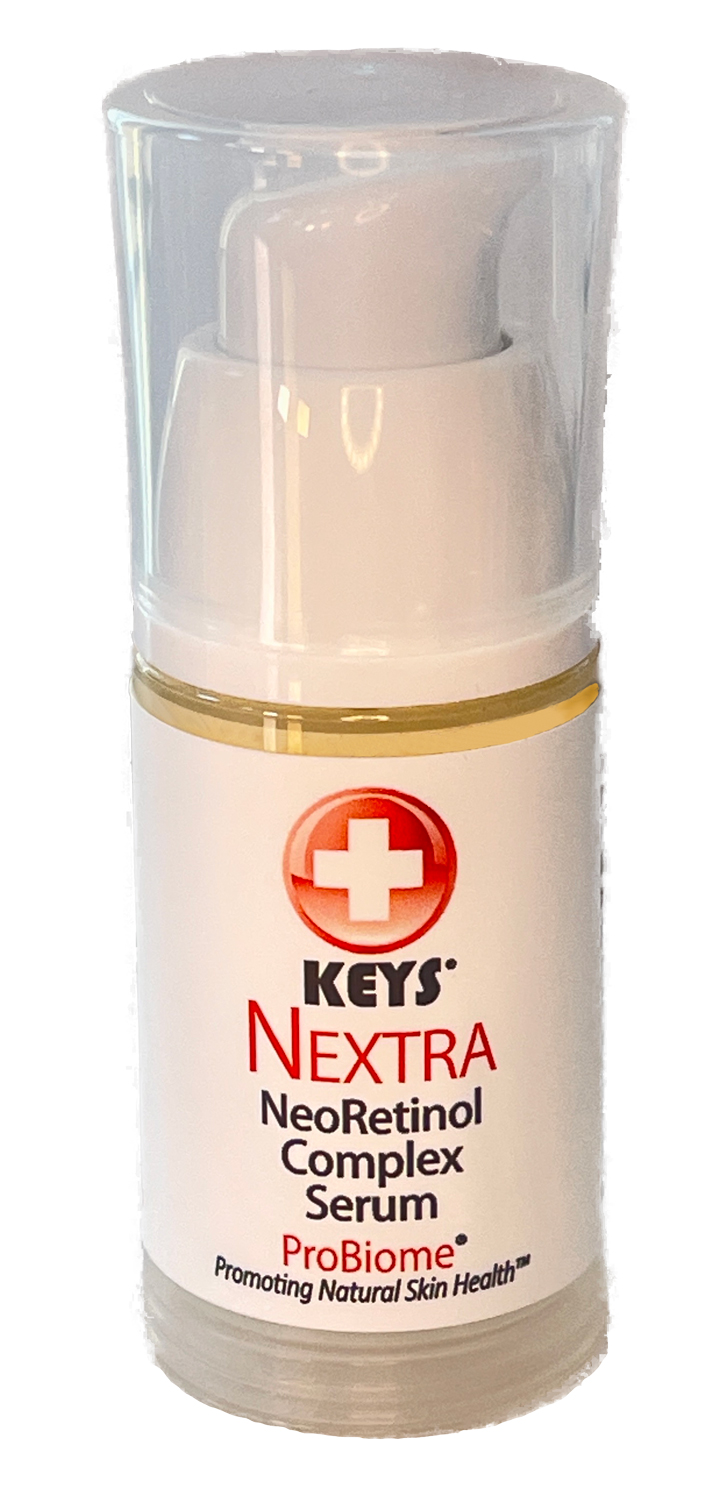 Keys has always researched ancient aboriginal remedies and coupled them with pure high efficacy natural ingredients. So, it is not uncommon to find us searching the outback of Australia or the rain forests of South America for elements and solutions. Sometimes it is easy when you walk into a village, and 60-year-olds look like 30 somethings with bright clear, smooth skin. You ask, "What are you using on your face?" More often than not, it is a single plant or tree byproduct that they attribute their youthful appearance too. A good example is Tamanu oil that we discovered was being used by Polynesians to soften the appearance of aging. That is why we feature Tamanu oil in our Reflex ProBiome Serum.
Often, it is not easy to figure out how an element of designing new products work or how to extract it. Sometimes it is a combination of things that people put together that works. Generally, when you find these sorts of solutions, the elements are not commercially available. Most companies pass on this discovery process in favor of chemicals that almost work. At Keys, we are scientists first and developers second. So, we are drawn to revolutionary discoveries. It is just our nature.
Element 6 – NeoRetinol
In Western Bolivia, near Lake Tiwanaku is a place called Pumapunku. At its peak, Pumapunku is thought to have been "unimaginably wondrous." Adorned with polished metal plaques, brightly colored ceramic, and fabric ornamentation, it was an Inca cultural center. It was visited by beautifully costumed citizens, elaborately dressed priests, and elites decked in exotic jewelry. Research shows that there were merchants around 500 AD that were selling fountain of youth style remedies that lore has it, reversed aging.
About five years ago, we heard about this elixir and probed Ancient Astronaut Theorists studying Pumapunku for what they had discovered. Their tales are always slanted and biased to what they are trying to prove. Within these stories come sub-stories of the culture and vanities of the people who lived and visited there. They report that the native people never aged. We read into it that they had some secret.
Element 6 is our discovery from the region. It is not just one plant extract, it is a combination of elements, mostly from far away, but constructed at Pumapunku. I am confident I have not discovered the exact concoction from Pumapunku, but I am on the path with our Element 6 ingredient. I will not tell you what it is, but I can tell you that it is plant and tree-based and that it does everything that Retinol does with none of the side effects, including no sun sensitivity.  Everything in Nextra NeoRetinol is sustainable, pure, and vegan.  No Chemicals!
What we have observed is that it reduces fine lines, resurfaces, and smooths the skin without drying, scaling of the skin, or redness from overuse. I use it twice a day, and I have noticed age lines disappearing, dark spots fading, and my eye bags diminishing. My skin feels softer than when I was a teen. I like to think I look younger. I also sent it to my posse of Hollywood TV and Film makeup artists. They had similar results feeling tightening and firming of the skin. They all noted a smoothing and almost restructuring of their skin. Please keep in mind. These are the most beautiful people walking the planet. For them to notice a change is a big deal.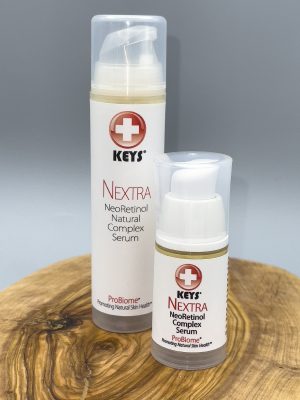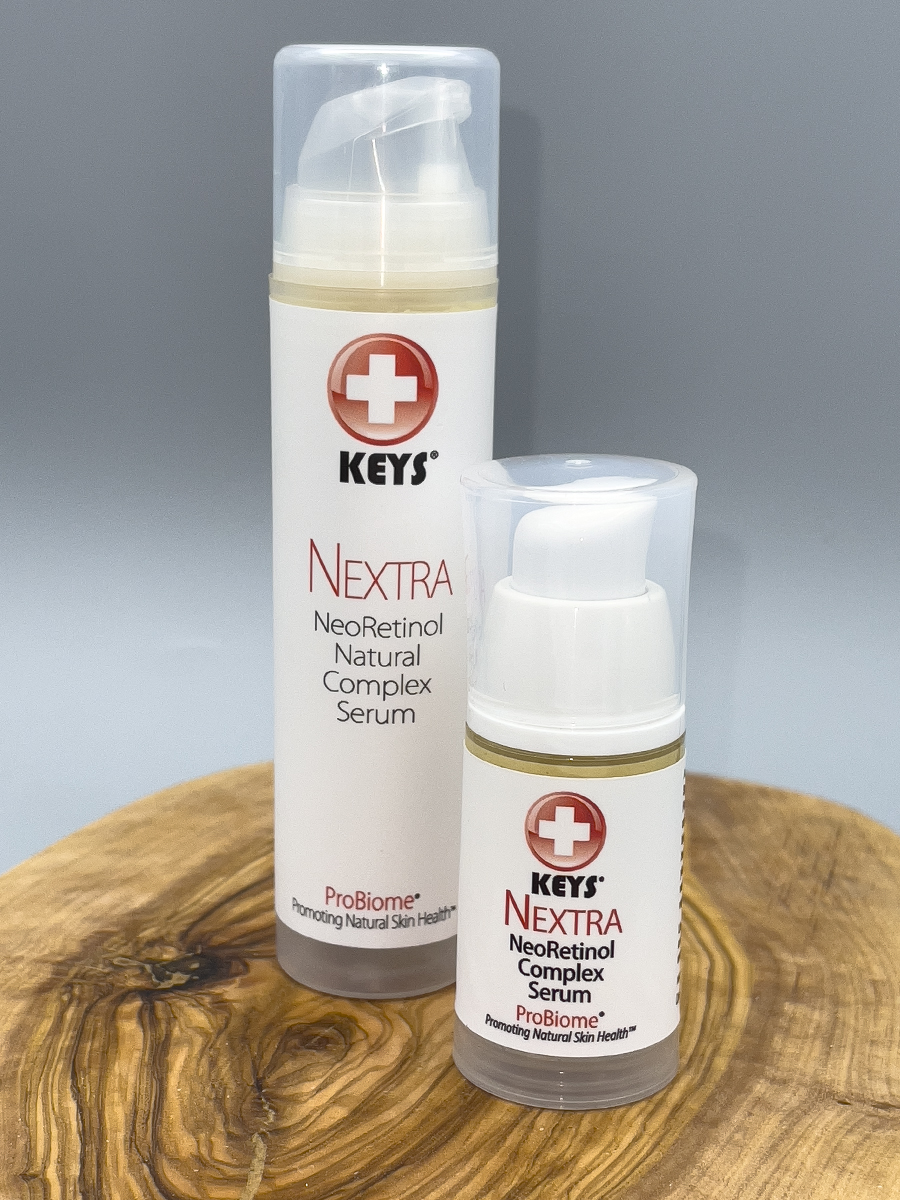 So, where are we? We have a new line of very high-end products called Nextra. Nextra is a truncated word describing the line and is a combination of the words Extra and Next. Element 6 is the primary ingredient in Nextra. The ingredient deck is as follows – Active Ingredients: Keys 'Element 6,' Olive oil Squalane, Ghana Shea Butter, Meadow Foam Oil, Avocado Oil, Arabica Green Coffee Oil, Cucumber Seed Oil, Black Seed Oil, Carrot Seed Oil, Bergamot Oil, Clary Sage Oil, and Ylang Ylang. Inert ingredients: Water, Vegetable Glycerin & Vegetable Emulsifying Wax.
The first in the Nextra Line is NeoRetinol. It, too, is a play on words that is the next generation of Retinol with none of the side effects. NeoRetinol is in beta test now with our beta-test team. These individuals range from actors, makeup artists, young and old. These people are not shy about being critical, and feedback so far is inspiring.
I can say for sure if you have skin that you have not taken care of, you will notice a dramatic change. If your skin is flawless, youthful, and well kept, you will feel the difference, and more likely, friends and family will notice a change.
Wendy Steele
What some of Beta Testers said:
I have struggled with acne for 10+ years and have tried just about anything under the sun to help my skin clear, and nothing worked until Nextra! After trying the Nextra NeoRetinol product, I immediately noticed a dramatic change! Not only did it help clear my acne, but it also helped with my overall skin tone. Britney
When I discovered Keys products, I was in heaven because they use only natural and organic ingredients, NO chemicals, and very budget-friendly. I was even more excited when I could try Nextra. It gave my skin moisture and made it so smooth and soft. It reduces my fine lines and wrinkles and helps sagginess around the chin area. I use it right after I get out of the shower. Anja
"Bob, Wendy, and the Keys Team, I want to say thank you for how much your products have helped me. I suffer from buildup and breakouts on my skin, but it is difficult to find a product that doesn't dry me out or leave my skin feeling greasy. Nextra NeoRetinol is the first product I have found that leaves my skin clean, refreshed, and oil-free! I am so grateful! Not to mention, it is all done without harmful chemicals! I can't wait to see what you think of next! Lisa
"Using Nextra, my overall skin texture, it is so much improved! Also, my pores are not as easily congested by the end of the day, and I would say they are much more clear in general. Nextra is the perfect moisture balance for my skin! I feel like I don't need any other moisturizer after applying it all over my face. Maybe a little eye butter around my mouth where I tend to get drier." Olga
"LOVING the nextra!!!"  Annie
For those wanting more technical information on Nextra Element 6™ Read On:
Keys® Nextra Element 6™ Abstract to MicroBiome Project: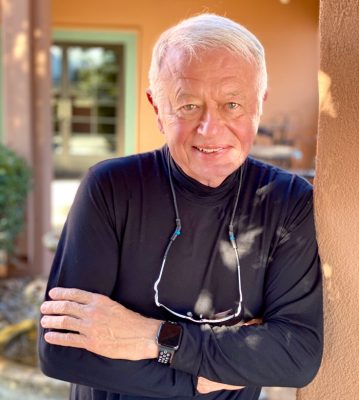 Element 6 is a patent-pending tocopherol triterpene compound comprised of six different Amazonian sustainable tree fruits and seeds processed using cyrogenisis extraction that has the skin anti-aging properties of Retinol, but without the traditional side effects. There are no reported reactions or allergens.  Nextra's Element 6 has been in development for over five years and is a blend of six ingredients from five tree species found in the Amazon. All are abundant, sustainable, and very effective by themselves. Combined, they create a single compound that mirrors the benefits of Retin-A with none of the side effects. Some Retinoic side effects include dryness, scaling, redness, photosensitivity, raw peeling skin, non-daily use, and UVA hypersensitivity. Element 6™ basic ingredients are a trade secret and will not be divulged, nor will the proprietary process be discussed. Keys believes it is a significant discovery and creation as a "pure" upgrade to Retin-A and Retinol. Element 6™ far exceeds the performance of non-retinoic oils and ingredients recently promoted by skincare product makers.
Traditionally natural skin product makers have fundamentally ignored the Amazon region due to the lack of scientific prowess and awareness. Most skin product makers wait for the most popular ingredients to emerge in a productization use frenzy. Most anti-aging products, including Keys®, have been focused on skin dryness using exotic oils to replenish reduced sebum levels. Element 6 is a compilation of constituent ingredients that mirror the features of Retin-A (AKA Retinol). Emphasis is on clearing, soothing, and plumping of the skin with none of the traditional side effects of Retin-A.
Element 6™ incorporates using a proprietary process of five species of trees and palm trees that occur as dominant plants in different rainforest areas of the Amazon region. Due to their abundance, these species can be exploited as sustainable sources of botanical materials and include Carapa guianensis Aubl., family Meliaceae; Eperua falcata Aubl., family Fabaceae; Quassia amara L., family Simaroubaceae; and Attalea speciosa Mart. and Oenocarpus bataua Mart., family Arecaceae. The general features, significant constituents, overall medicinal properties, detailed dermatological and skin care applications, and possible harmful effects have been considered. The major products include seed oils from A. speciosa and C. guianensis, fruit oil from O. bataua, and active compounds such as limonoids from C. guianensis, flavonoids from E. falcata, and quassinoids from Q. amara. These plants' dermatologic and cosmetic applications are multiplying but are still widely based on empirical knowledge. Applications include skin rehydration and soothing; anti-inflammatory, anti-age, and antiparasite effects; hair care; burn and wound healing; and the amelioration of rosacea and psoriasis conditions. Despite limited knowledge about their constituents and properties, these species are promising sources of bioactive compounds for skin care and health applications. An improvement of knowledge about their properties will provide added value to the exploitation of these forest resources. 
The Science of Bioactives
The search for new bioactive principles to be used in pharmaceutical and cosmetic products is largely directed towards natural sources, primarily botanical entities. The Amazon region holds vibrant plant diversity, and therefore it is attracting much interest in discovering new bioactive principles. Traditional plant remedies are generally a preferential starting point for projects of drug discovery from natural sources. However, unlike Asian traditional medicines, popular remedies from the Amazon have not been recorded for thousands of years in the herbal pharmacopeia. By contrast, indigenous groups have made extensive use of rainforest plant materials to meet their health needs. Only in recent times, the Amazonian ethnobotanical culture has started to be discovered and considered for the development of new drugs and skincare products. Keys among major pharmaceutical companies have explored the region and combine ingredients to form single compounds that have measurable effects.
We compile ingredients from five species of trees and palm trees that occur as dominant species in different rainforest areas of the Amazon region. Due to their abundant occurrence and the possibility of cultivation, these species can be exploited as sustainable sources of botanical materials. They include Carapa guianensis Aubl., a timber tree of the Meliaceae family that can be cultivated and is known as alternative mahogany; Eperua falcata Aubl., a timber tree of Fabaceae that is dominant in Guyana forests; Quassia amara L., a small tree belonging to Simaroubaceae that is cultivated on a commercial scale; and two very abundant Arecaceae species, Attalea speciosa Mart, and Oenocarpus bataua Mart. Each species has been considered for its general features, significant constituents, overall medicinal properties, detailed dermatological and skincare applications, and harmful effects.