The California Women's Conference…One Guy and 22,000 Women

Well, I am not the only guy.  There are a few of us.
As the Keys formulator, I was asked to attend this year's California Women's Conference to answer questions and talk to the press and celebrities about our line of chemical-free skincare products.
I arrived in LA last week.  It is always a homecoming for me.  This year was the same, but different.  After all, I was going to be hanging out with 22,000 women in one of my favorite towns, Long Beach.
It is about four hours until the festivities begin and the energy here is heavy heavy supercharged and electric.  I will be adding things after the conference here.  We go from 4 pm to 9 pm tonight and then 7 am to 5 pm tomorrow.  So, I am not sure exactly when I will be physically able to share impressions.
To start, a few days ago the Governor chided some members of the press for being down on California.  He offered what I have known since running a high tech company in Silicon Valley, that this state is all about innovation.  It all start here he said and he is dead right.  Whether it is a new clothing trend or the next Terabyte hard disk, it comes from here.  Time Magazine echoed the sentiment with the state trillion-dollar economy.
I am not sure if his remarks have fueled the energy at the Women's Conference, but I plan to tell Arnold that he did my heart good with his remarks.  My sense is that 22,000 women are going to leave this conference with a great deal more power and energy.  More later!
Post Conference Update and My Impressions
Profound Change Needed Now!
What I learned from the women's conference is how easy it is to change the world.
It is simple.  We must make sure that 50% of everything that happens is caused by and influenced by women.  Everything that happens around the world must have equal input from women.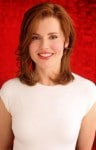 Geena Davis said some interesting things.  She talked a lot about the recent Shriver report and how women on comprise a very small part of the control mechanisms around the world.  Whether it is politics, management or religious organizations, women are a too small a minority. The consensus at the conference is that if you want to change the world, the simplest way to do it is by increasing the power of women.  Ironically much of the talk at the conference was about finding women needing to have more time to rest.  Between family, work and all of the activities, most complained about fatigue, yet they all agree that women need to be more in control of the world.  I think that Geena shocked the participants when she said that at the current rate that women will achieve equality at their current rate of growth in 500 years.  It needs to happen now!
As a man, I have always loved to work with women.  They are honest and hard working.  They have had too many ceilings to breakthrough.  None as profound as I learned at this conference.  Keys is lead by a aggressive, passionate, active and accomplished woman.  Wendy Steele was an exec at Coca-Cola whose bout with skin cancer created Keys.  Our entire sales team are women as well as our head of R&D, customer service, administration, and marketing.  There are very few men in our organization.  It was not by design, but it sure happened that way.  That is among the reasons we exhibited at the Women's Conference and why we are so proud that our Luminos was chosen by Maria Shriver for the speakers gift bag.
Safe to say, we are already organizing an even bigger presence at next year's event.