Keys Reflex Probiome Serum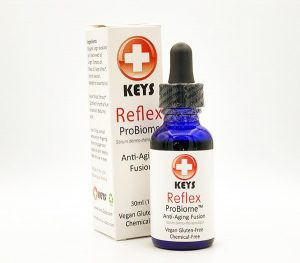 Reflex ProBiome is our most potent anti-aging and age-reversing tool. Reflex is a blend of the highest quality and performing exotic oils from around the world. Use for dehydrated skin under makeup, with Luminos and Eye Butter for as brighter less tired appearance. Smoother and lightening, Reflex is one of our most popular and healthy products in the anti-aging fight.
"Night Time is the Best Time!" This formula is designed to absorb quickly into dehydrated skin, allowing it to smooth, nourish, and brighten while providing a natural glow. Reflex is a rich source of antioxidants and fatty acids from a blend of certified organic whole oils with Miras extract we formulated and made in our kitchens.
Reflex ProBiome's purest organic oils are assembled to replicate the skins own sebum. Reflex combines etrapeptides, triglycerides, fatty acids, quadracarotenoids, and nutrients for a smoother, youthful appearance. Reflex affects skin cells shape and health.
We are combining Organic Virgin Avocado oil from Southern California, Organic Virgin Tamanu oil from Polynesia, Shea oil from Ghana, ancient renowned Black Seed oil from Australia, Bergamot essential oil from Trinidad and the undisputable performance of Carrot Seed oil from Srilanka. Miras extract features forsythia fruit for its betulinic acid making Reflex ProBiome a purpose-designed functional anti-aging product.