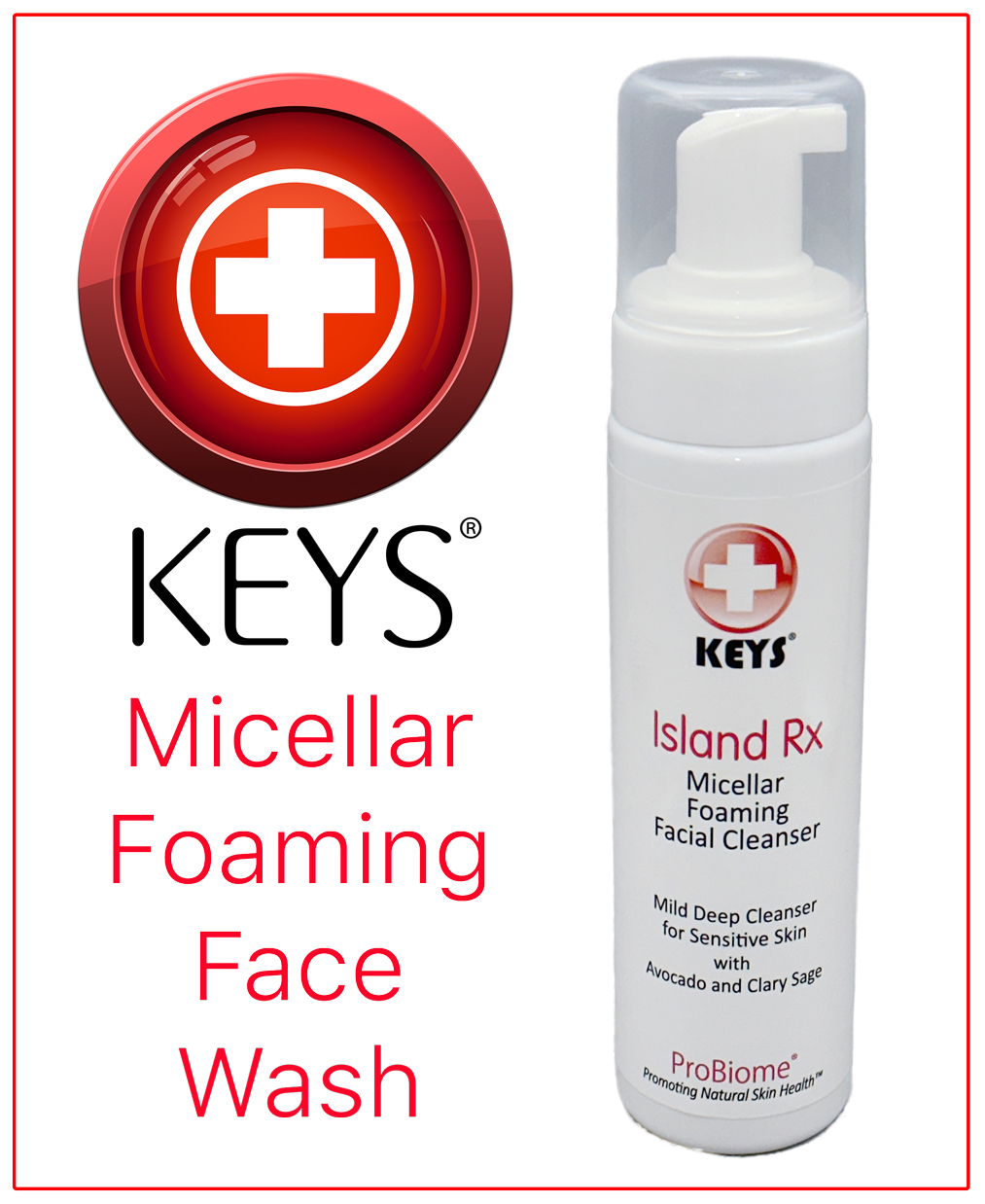 Keys® Island Rx Foaming Wash – Try It for a fresher clean
Island Rx Foaming Wash – Feel the Micellar difference.


The Keys Island Rx Foaming Wash is a natural skincare product that cleans and nourishes the skin. The core Island Rx liquid soap was designed and made nearly twenty years ago for our CEO and founder, Wendy Steele. Her skin was so sensitive post Melanoma, and all the prescription products worsened it. Regular Castile soaps like Dr. Bronner helped, but they were still too harsh and alkaline. Island Rx was invented for her as a safer and milder alternative. Most Castile soaps have a micellar set of properties. Later, we put Island Rx into a foamer to air-dilute the micellar cleanser to make it even milder. Island Rx Foaming Wash has the highest concentration of micelles available today in a whole natural form.
Island Rx offers people a way to cleanse the skin without scrubbing the face. The micelles bind to oil, removing makeup and debris while hydrating the skin. Combined with our milder version of Castile, it is a gentle alternative to harsher sulfate chemical cleansers.
Here are its features, benefits, and advantages:
Features:
Made with natural ingredients, including saponified olive oil, coconut oil, jojoba oil, aloe vera, and more.

Free of synthetic fragrances, preservatives, and harsh chemicals.

Comes in a foaming pump bottle for easy and convenient use.

High micelle levels as a Probiome®
Benefits:
Cleanses the skin gently but effectively, removing dirt, oil, and impurities without stripping the skin of its natural oils.

Nourishes and hydrates the skin, leaving it feeling soft and smooth.

It soothes, and calms irritated skin, making it ideal for those with sensitive or problematic skin.

It can be used on the face and body, making it a versatile product for daily use.
Advantages:
Contains natural ingredients that are safe and gentle for all skin types.

Does not contain any harsh chemicals or synthetic fragrances that can irritate or dry out the skin.

Provides multiple benefits in one product, including cleansing, nourishing, and soothing the skin.

Comes in a convenient foaming pump bottle that is easy to use and allows for controlled application.

Produced by Keys, a company known for its commitment to natural and eco-friendly skincare products.