Keys Chosen By California Women's Conference

One of the premier conferences every year for and about women is the California Women's Conference hosted by Maria Shriver and the Governor of California.  This year, Keys was honored to be invited as one of the sponsors of the conference being asked to have our Luminos be included in the speakers' gift bags.  Many conferences permit vendors to buy their way into participation.  For this conference it is an invitation only honor that delighted us to receive.
There will be 118 speakers from the entire globe that includes Sir Richard Branson, Kelly Preston, Maria Shriver and numerous noteworthy speakers.  Click Here for a complete list of speakers.
The conference covers a wide array of topics and is a concentrated two day event.  Keys will also be partnering with some of our retailers in Southern California and will be exhibiting our full line of products.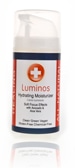 Key Luminos continues to gain momentum as one of the hottest products in the Hollywood TV, Motion Picture and for Television Commercials.  The illusionary effects and glowing skin resulting from Luminos has caused quite a stir from the like of "LA Candy" and is well known by director of photography and makeup artists in the industry.  No surprise it will be a significant part of this year's gift bag to every speaker.

The Women's Conference is the nation's premier forum for women and is hosted by California First Lady Maria Shriver and Governor Arnold Schwarzenegger. The Conference, also known as The California Governor and First Lady's Conference on Women, has grown from a California initiative for working professionals into an international network of women from all walks of life, backgrounds and perspectives, and a life-changing experience for the thousands of women who have attended. The mission of The Women's Conference is to inspire, empower and educate women to be Architects of Change in their own lives and in the lives of others. This year the Conference has expanded to two full days of speakers, sessions and events.
What is The Women's Conference?
The Women's Conference is the largest and most dynamic gathering of women in the nation. The annual Conference unites more than 80 internationally-acclaimed leaders, visionaries  and authors with 14,000 women in one arena, plus thousands more online, to share enriching stories of transformation and success, self-empowerment and life lessons. To extend the power and reach of The Women's Conference, a new website, www.womensconference.org, was launched in July 2009.  The Women's Conference is a nonpartisan, nonprofit 501(c)(4) organization.
When is The Women's Conference?
This year, The Women's Conference 2009 will be held on Tuesday, October 27.  And, for the first time, the Conference has been expanded to two full days — with our new A Day of Transformation sessions and Night at The Village on Monday, October 26. 
Who will be speaking this year?
A full list of speakers will be announced on July 13th.
Where is The Women's Conference?
Since 2004, the Conference has been held at the Long Beach Convention Center, 300 East Ocean Blvd., Long Beach, CA 90802.
How do you purchase tickets for The Women's Conference?
Online ticket registration begins Monday, July 13, 2009, at 9 AM PDT.