Gathering Thyme, New Bay Area Keys Reseller Opens in Marin County

Gathering Thyme is a new community herb shop and holistic health education center focused on providing Marin County and the Bay Area with exceptional natural healthcare products, education and support.  "Keys is very excited to add Gathering Thyme to our reseller list because they are true trusted advisors in their community," said Wendy Steele, Keys CEO.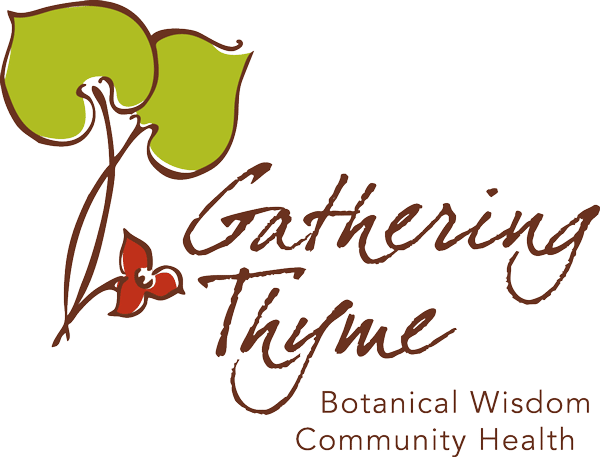 In the retail shop you will find a wide selection of high-quality locally-sourced herbal products including the very best in bulk herbs, teas and spices; Western, Chinese, and Ayurvedic herbal formulas; practitioner-lines of dietary supplements; a terrific selection of organic face and body care products for women, men and children; a large selection of new and used natural healthcare books; bulk salts, clays, and body care products; and herb and health related supplies and gifts.
Affordable community education is a cornerstone of Gathering Thyme's mission. Upstairs from the retail shop is a workshop area, right next to a spacious kitchen ready to support cooking and other do-it-yourself herbal classes.  A variety of diverse hands-on workshops will be offered ranging from Aromatherapy to Grassroots Herbalism to Gluten-Free Cooking.  Local and nationally known subject matter experts will teach the classes.  Workshops will be added constantly, so check the website (www.gatheringthyme.com) for workshop descriptions and an up to date schedule.
In addition to the workshops, there will be free health related talks in the retail space on Thursday evenings at 7:00, right after the store closes.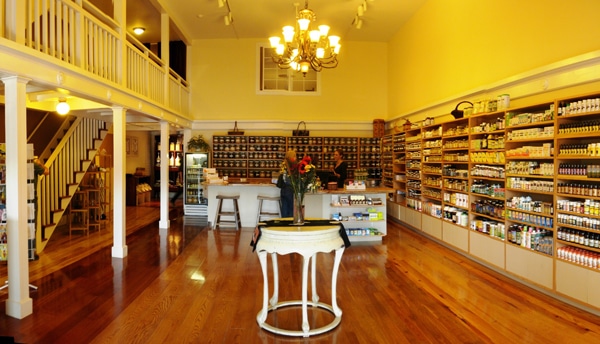 Often the talks will focus on seasonal health related topics, discussions of products or healing modalities, and ways people can use herbs and other natural healing methods to improve the health of themselves, their family and friends. Some of the talks will feature workshop presenters, giving people an introduction to future workshops.
Just down the hallway from the upstairs workshop space are two treatment rooms used by a wide range of professionally trained and highly experienced holistic practitioners.  The website lists each practitioner's area of expertise, background and available hours.
The store was designed with sustainability in mind and is being operated as a sustainable business – the majority of the shelves are made from reclaimed lumber, the lighting was changed to be highly energy efficient, recycled or sustainably produced items are used throughout the store, merchandise is sourced locally and much of it is organic or made from organic ingredients, many of the products are sold in bulk to reduce packaging, customers can make tea in the store only if they bring their own cup, and used books are recycled back into the community.  All of this was designed to highlight the unique beauty of the 100-year-old building, originally built as a neighborhood grocery store, and now recycled into a community herb shop.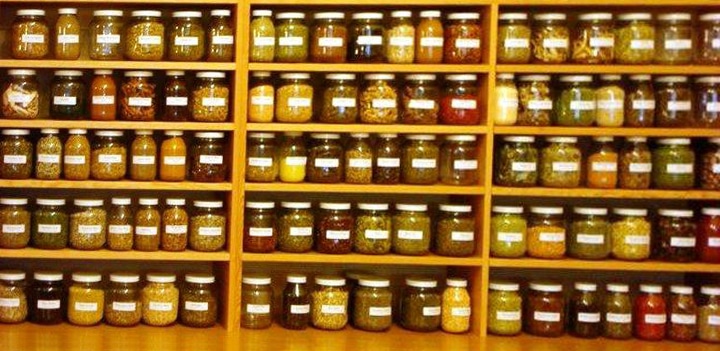 Gathering Thyme was created to support the health and wholeness needs of the local community by providing sustainable herbal resources to meet individual needs.  A visit to the store and participation in the talks and workshops will fill your senses with the sights, sounds, tastes and smells of holistic health, increase your self-care knowledge and skills, and give you the resources you need to take responsibility for your health, the health of your family, and your community.
Gathering Thyme
Botanical Wisdom • Community Health
Open
Monday through Saturday, 11:00 to 7:00
Sunday, 12:00 to 5:00
226 and 228 Sir Francis Drake Blvd. • San Anselmo, CA
www.gatheringthyme.com • 415-524-8693