Keys Avo Jel Instead Of Silicone Grease – DIY
Need Grease?  A little dab of Avo Jel will do.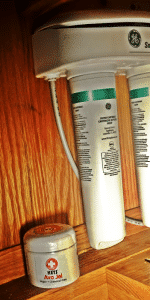 Many devices around the home often call for lubrication with food grade silicone grease or petroleum jelly.  If you are like me, the idea of using silicone or petrolatum that comes in contact with my food or water is not desirable.  Enter Keys Avo Jel as a great substitute.
Recently, I needed to replace a water filter for my sink drinking water tap.  I ordered the filters and when they arrived, the instructions said that it was very important to minimize the possibility of leaking to put "food grade silicone" on the O-rings where the filters came in contact with the housing.  I thought for a moment and grabbed the Avo Jel.  A couple of quick dollops on the O-rings and the new filters were on with no leaks.  Because Avo Jel is pure avocado oil, using it offers a clean alternative to grease and petrolatum.
As you can see from the image below, the arrows point out where I put the Avo Jel.
I know that not everyone has to replace filters, but this is a good example where Avo Jel serves as a lubricant and seal instead of using conventional petroleum or silicone grease.  Make things slide easier, lubricate water bottle tops and improve any seal safely using Avo Jel.
Let us know how you use Avo Jel as an alternative to chemical and petroleum based grease?  If you want to learn about other uses, just Google "uses for petroleum jelly" or "uses for petroleum jelly around the home" and you will be amazed.  Then realize that you can use Avo Jel for all the same purposes.  Keeping in mind, Avo Jel is petroleum-free, silicone-free and chemical-free.
Lubricate Those O-rings with Avo Jel