Keto Diet & Keys – Skin Is In The Game
Keto and Skin – Carb-Free, Sugar-Free, Sodium-Free, Gluten-Free, Soy-Free Anti-Aging
The revelation that some skin care products have sugars, carbs gluten and salt is stupefying and scary!  Clean products are not that hard to make if you know what you are doing.
The Keto diet is sweeping the world and at Keys as well. In its purest form, we are switching our bodies from sugar burners to fat burning. Yes, the body runs on fat as well as sugar. There are lots of benefits to the switch, cutting out ALL sugar and limiting carbohydrates to under 20 gram a day. Yes, it will melt the weight off your body quickly, but what it does for your health is even more critical. Not the least of which is your skin.
Funny as it sounds, Keys products are ketogenic. No carbs and no sugar and they are mostly good fats like avocado oil, black seed oil, olive oil, etc. etc. Besides being gluten-free (carbs), we are sugar-free.
The exciting part is that those of us at Keys that have been on a Keto diet for three months now have noticed how good our skin looks and how fewer products we have to use to have great looking skin. Our skin universally seems smooth and cleans easier as if the grime is riding on top of our skin. Lotions and creams require less to get more. I have personally cut my Reflex and Luminos usage by about a third (33%), and my skin loves the nourishment.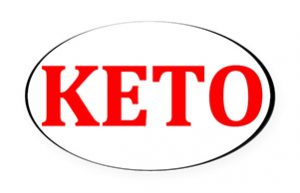 There were some ironies like when I tried to use a sugar scrub, and my skin reacted almost as it dropped out of ketosis. Yes, and I will never do that again. One person tried a bar soap that turned out to have a raft of gluten and carbs used for thickeners, filler, and grains as an abrasive. Gluten = Carbs. And yes, we now believe the skin reacts to sugar and carbs the same way as our gut does.
So, most of us will never go back to sugar and carbs because of how the Keto diet has made us feel. Life changing is about the only description I can offer. Knowing that some skin care brands use carbohydrates and sugars, as well as artificial sweeteners, was stupefying to all of us. It is a central message for all of us that have noticed how much better or skin looks, feels and acts since going Keto.